NEW YORK—A federal appeals court said Friday it wouldnt step in right away to delay New York prosecutors effort to get President Donald Trumps tax records.
The 2nd U.S. Circuit Court of Appeals denied Trumps request to immediately put Manhattan District Attorney Cyrus R. Vance Jr.s subpoena on hold while Trump appeals to try to get it invalidated.
The appeals court said it would hold a hearing on the request for a delay, but not until Sept. 1. After winning a lower court ruling, Vances office had agreed not to enforce the subpoena before Aug. 28.
Related Coverage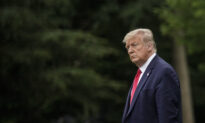 Trump Files New Challenge Seeking to Block Manhattan DA From Accessing His Tax Returns
The DAs office declined to comment on what the appeals court ruling might mean for that time frame. Messages were sent to Trumps lawyers.
The case has already been to the Supreme Court and back, and Trump has said he expects it to end up there again.
Even if the tax records ultimately are subpoenaed, they would be part of a confidential grand jury investigation and not automatically made public.
The Supreme Court ruled last month (pdf) that the presidency in itself doesnt shield Trump from Vances investigation.
But the high court returned the case to a Manhattan federal judges courtroom to allow Trumps lawyers to raise other concerns about the subpoena. They did, arguing in July that the subpoena was issued in bad faith, might have been politically motivated and amounted to harassment.
U.S. District Judge Victor Marrero rejected those arguments Thursday—and then turned down a request from Trumps lawyers to delay enforcement of the subpoena while they appeal his decision.
"The president has not demonstrated that he will suffer irreparable harm" if the records are turned over for Read More From Source