First lady Melania Trump and the campaign of Democratic presidential nominee Joe Biden on Tuesday denounced the violence and destruction taking place in Kenosha, Wisconsin.
Trump, speaking to the Republican National Convention, called on Americans "to take a moment, pause, and look at things from all perspectives."
"I urge people to come together in a civil manner, so we can work and live up to our standard American ideals. I also ask people to stop the violence and looting being done in the name of justice, and never make assumptions based on the color of a persons skin," she said.
"Instead of tearing things down, lets reflect on our mistakes. Be proud of our evolution and look to our way forward. Every day let us remember that we are one nation under God, and we need to cherish one another."
Trump said she has reflected on unrest in the country.
"It is a harsh reality that we are not proud of parts of our history. I encourage people to focus on our future while still learning from our past. We must remember that today we are all one community comprised of many races, religions, and ethnicities. Our diverse and storied history is what makes our country strong, and yet we still have so much to learn from one another," she said.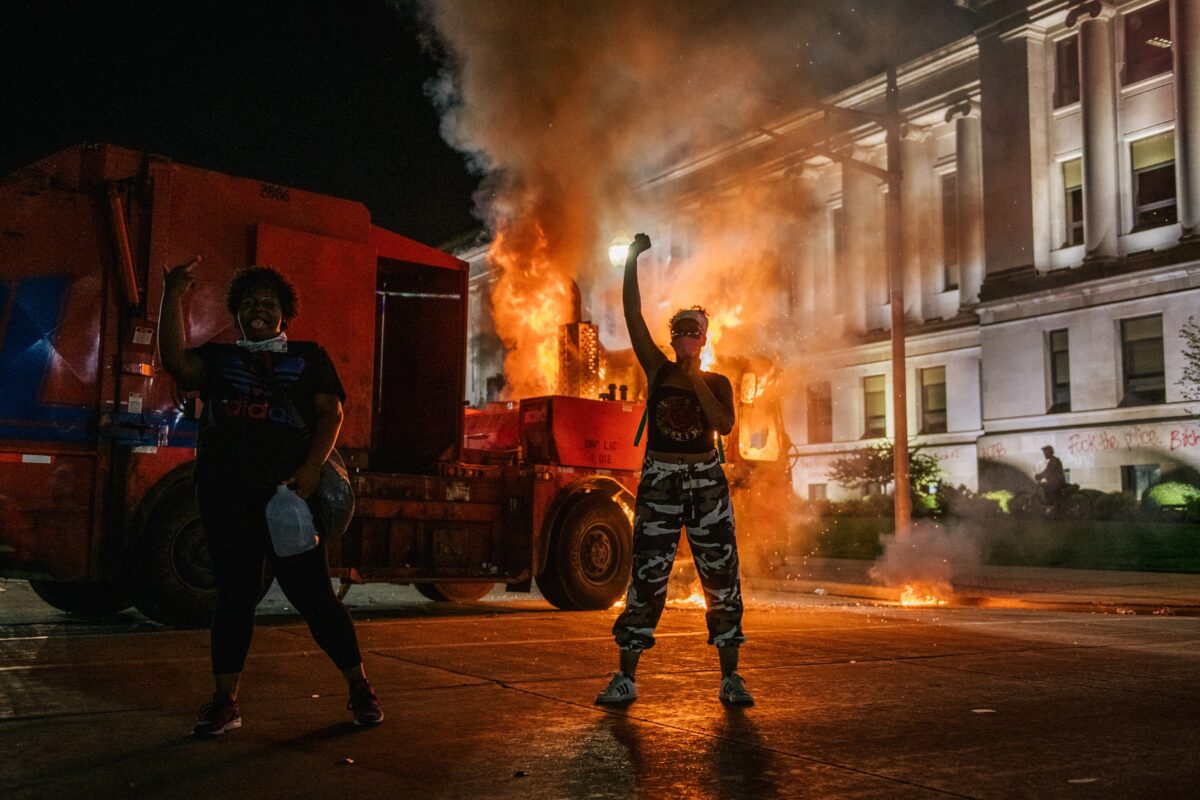 Rioters for several nights have burned buildings and looted businesses in Kenosha, ostensibly in the name of racial justice. Two people were shot dead overnight during rioting.
President Donald Trump, who narrowly won Wisconsin in 2016, did not mention rioting during remarks on Tuesday.
On Twitter, he urged Oregon Gov. Kate Brown to call the National Guard to help quell unrest in Portland, which has continued virtually every night since late May. Brown said she would not.
Biden, the Democratic nominee, has not personally condemned the rioting in Kenosha or Portland, but campaign adviser Symone Sanders did.
"As Joe Biden said in the aftermath of George Floyds horrific murder: Protesting such brutality is right and necessary. Its an utterly American response. But burning down communities and needless destruction is not. Violence that endangers lives is not. Violence that guts and shutters businesses that serve the community is not," Sanders said in a statement to news outlets.
Biden in June spoke about Floyd, who died in police custody in Minneapolis on Memorial Day. The four officers involved were fired and face murder or aiding and abetting murder charges.
"The country is crying out for leadership. Leadership that can unite us. Leadership that can bring us together. Leadership that can recognize the pain and deep grief of communities that have had a knee on their neck for too long," Biden said at the time.
"But there is no place for violence. No place for looting or destroying property or burning churches, or destroying businesses—many of them built by people of color who for the first time were beginning to realize their dreams and build wealth for their families. Nor is it acceptable for our police—sworn to protect and serve all people—to escalate tensions or resort to excessive violence. We need to distinguish between legitimate peaceful protest—and opportunistic violent destruction."