Sudan suspends schools after student's protests
Your ads will be inserted here by
Easy Plugin for AdSense.
Please go to the plugin admin page to
Paste your ad code OR
Suppress this ad slot.
"The Secretary General of the Federal Government Bureau, Siddiq Gumaa Babal-Khair, has directed the caretaker Walis (governors) of States to suspend education at all the school levels as of Wednesday," SUNA reported, citing a directive of the Sudanese Transitional Military Council.The government's decision to close schools came a day after children in their school uniforms took to the streets nationwide to protest the killings during Monday's demonstrations in the city of El-Obeid, where security forces opened fire to disperse demonstrators, according to opposition groups.At least six people, including four students, were killed and 62 people were injured in the demonstrations over living conditions and food shortages, according to the Central Committee of Sudan Doctors (CCSD).Sudan is in the middle of political upheaval which led to the ouster in April of former president Omar al-Bashir, who had ruled for 30 years. Demonstrations that led to Bashir's exit have continued in the nation with many calling for a transitional civilian government. After many weeks of protests that have turned deadly, Sudan's military leadership and the country's pro-democracy movement agreed to form a rotating council that will govern the country for at least three years.The group, which has been helping to lead the protests, said one demonstrator who died had been shot in the head. "Younis Adam Younis passed away in the Intensive Care Unit (ICU) of The Police Hospital. He was shot in the head with a live bullet while participating in a peaceful procession for high schools in El Obeid city on July 29th, 2019," CCSD wrote on its Facebook page.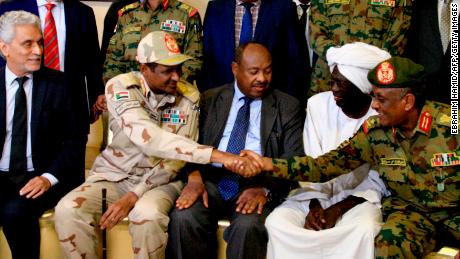 The UN's child aid agency UNICEF said the students that died were between the ages of 15 and 17 and demanded an investigation into the killinRead More – Source