A state lawmaker may have violated the law when he called on people to "loot and burn" houses with "Black Lives Matter" signs.
Sean Locke, director of the Civil Rights Unit at the New Hampshire Attorney Generals Office, informed state Speaker Stephen Shurtleff on Thursday that Rep. James Spillanes post is under investigation.
The unit is looking into "whether his conduct constituted a violation of the New Hampshire Civil Rights Act," Locke wrote.
The investigation was triggered after multiple people sent complaints to the unit.
Writing on Facebook, Spillane, a Republican, said: "Public Service Announcement: if you see a BLM sign on a lawn its the same as having the porch light on for Halloween. Youre free to loot and burn that house."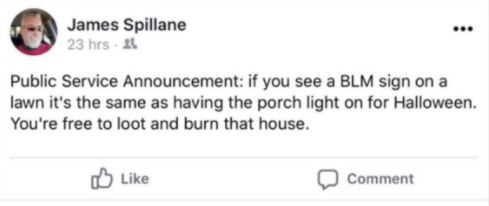 The post was later deleted.
Spillane didnt respond to a request for comment.
Shurtleff, a Democrat, said Spillanes post was an incitement of violence that "put the lives of Granite Staters in jeopardy."
"It is inexcusable. Representative Spillane should resign his seat immediately," he added.
Black Lives Matter Nashua took issue with Spillanes post.
"Rep. Spillanes racist call for violence against this movement is yet another example of what we mean when we say #NHIsNotInnocent," the group said in a statement.
"We must commit to dismantling white supremacy and systemic racism in the Granite State."
House Republican Leader Dick Hinch called Spillanes words "inexcusable" but added: "I trust he meant no harm to anyone."Read More From Source