Vladimir Putin has told a forum of his supporters that he sees the main objectives of his new presidential program as maintaining Russia's freedom, social stability and leading place among world nations.
Read more
Speaking at the Tuesday session of the "Forum of Actions" organized by the All-Russian Popular Front movement incumbent president Vladimir Putin said that Russia had to fulfill the principal historical tasks of the moment, such as population growth, creation of a new economy and development of its Arctic and Far East regions.
Putin also emphasized the importance of keeping up with the ongoing revolution in production technologies, healthcare and education. "Shielding ourselves from these international tendencies or trying to keep up with someone is definitely not our choice, it cannot be our choice," he said, adding that Russia had all opportunities to restore the spheres of economy where it used to be a world leader.
"We will definitely break through to new competences that we need for our development; there is no doubt about it. We must become leaders in knowledge, in intellect, in social and cultural development," Putin told his supporters.
The president also warned against drifting from the set course of development, saying that if such thing happened the nation might be forced to start everything from scratch again.
Read more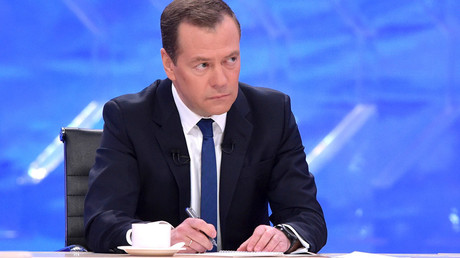 "We all must remember that Russia, our people, all our families have gone through a very difficult and extremely hard period in their history. Today we must maintain our statehood and freedom, stability and social accord, we must maintain everything we have managed to achieve, even the modest things. This way our achievements and changes for the better would become irreversible and all our strength serve for the benefit and development of the Motherland. I see this as a common task for us all and also as my personal duty and civil responsibility as an incumbent head of state and as a presidential candidate," Putin said.
Founded in 2011, the All-Russian Popular Front is a broad-based public movement with a centrist, pro-Putin agenda. At the start of its existence the movement was closely associated with the parliamentary majority party United Russia, but the connection weakened over time. In mid-2013 Putin accepted an offer to become the leader of the All-Russian Popular Front, saying that he saw the group as a major promoter of the dialogue between different political forces in the state.
Earlier this month Putin announced that he planned to run for another term in 2018 as an independent candidate, which means that he would have to collect and present 300,000 supporters' signatures to become registered. It is most likely that the All-Russian Popular Front will become the incumbent's main tool for this task, though other political forces – not least the United Russia party – have already pledged their support to the president.
The post Russia must become leader in knowledge, intellect and culture, Putin tells supporters appeared first on News Wire Now.