President Donald Trump visited Iowa on Tuesday, a week after devastating storms hit the state, destroying much of the regions corn crops and causing significant damage to towns and farms.
The president visited the state a day after he approved federal disaster funding for Iowa, which was struck by a derecho—or a widespread straight-line wind storm—on Aug. 10. Much of the Midwest was hit with wind speeds that rival hurricanes or tornadoes. Wind speeds reached more than 110 mph in some areas of the state.
Following an estimate from the U.S. Department of Agriculture last week that the storm affected about 37.7 million acres across the Midwest, including 14 million in Iowa, Sen. Chuck Grassley (R-Iowa) said at the briefing in Cedar Rapids Tuesday that some 113 million acres of crops across a number of the states counties were affected.
Trump told local and federal officials at the briefing that his administration is already working with Iowa officials to provide aid and to assess the damage.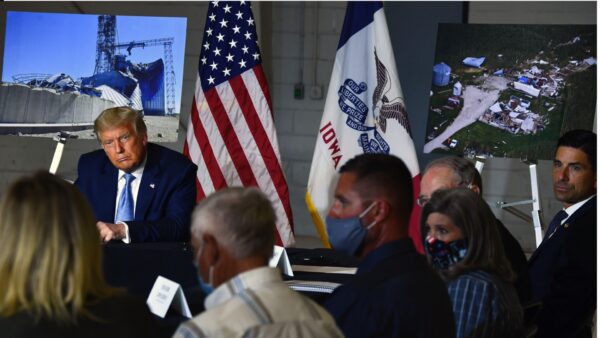 "Winds from 80 to 110 miles per hour have carved a path of destruction through over half of Iowas really great counties, many of which I got to know over the years. Up to 43 percent of the states corn and soybean crops have been damaged or totally destroyed," the president said.
"Three hundred and 32 cell towers were damaged—think of that—impacting one million residents. Nearly half a million of the Iowa electric customers lost power," he continued.
"I have never seen mile after mile just flat on the ground," Grassley told the president.
The storm destroyed or seriously damaged more than 57 million bushels of commercial grain storage capacity in Iowa and a similar amount on farms, according to the states agriculture department. Farmers may struggle to store their crops as a result.
The cost to remove, replace, or repair damaged grain bins will top $300 million, according to Iowas agriculture department. Farmers in the state harvested 2.6 billion bushels of corn and 502 million bushels of soybeans last year.
"Were offering the full support of the federal government," Trump said.