President Donald Trump on Thursday night said that while he did not agree with John McCain, the GOPs 2008 presidential candidate and longtime senator, he still respected him.
"As John McCain is concerned," Trump said, "I was never a fan."
"I will admit that openly. I disagreed with him on the endless wars. I disagreed with him with respect to the vets and the taking care of the VA," the president said, adding that he wanted to change how the VA, or the U.S. Department of Veterans Affairs, was run.
"So I disagreed with John McCain, but I still respected him. And I had to approve his funeral as president. We lowered the flags," he said. "I had to approve that, nobody else, I had to approve it. When you think – just thinking back, I had to approve either Air Force One or a military plane to go to Arizona to pick up his casket."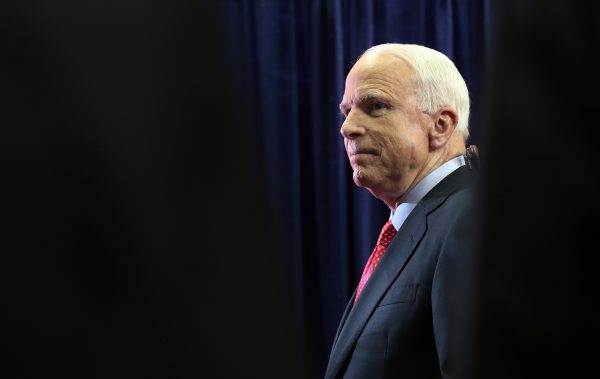 Trump was also asked about whether he made disparaging comments about U.S. Marines buried in a cemetery. The Atlantic, citing anonymous sources, carried the report.
The president denied making the comments, saying the report was false.
"To think that I would make statements negative to our military and fallen heroes when nobody has done what Ive done," for the U.S. armed forces, Trump told reporters. "Its a total lie … Its a disgrace," he said of the report.
I was never a big fan of John McCain, disagreed with him on many things including ridiculous endless wars and the lack of success he had in dealing with the VA and our great Vets, but the lowering of our Nations American Flags, and the first class funeral he was given by our….

— Donald J. Trump (@realDonaldTrump) September 4, 2020
McCain was long known for his hawkish positions on foreign policy, openly supporting U.S. military intervention in the first Persian Gulf War in Iraq, as well as the later invasions of Afghanistan in 2001 and Iraq in 2003. He was also a dedicated supporter of Israel and backed Trumps decisiRead More From Source